Description
We have the largest variety of Asus VivoBook Laptops in Kenya
ASUS Vivobook Flip 14 TP470 Intel Core i7-1165G7 16GB RAM 512GB SSD|Laptops For Home P/N# 90NB0S01-M00LU0 price in Kenya is ksh 125,000 at LaptopClinic.co.ke Get it in 2 hours/ Same Day for Nairobi, Next Day Countrywide.
Key Specifications

Brand ASUS   
Model Name TP470EA

14.0-inch, FHD (1920 x 1080) display
Intel Core i7-1165G7 Processor 2.8 GHz
16GB LPDDR4X on board RAM
512GB M.2 NVMe PCIe 3.0 SSD
Windows 11 64bit

Fingerprint Reader Special Feature           
Integrated Graphics Card
One year warranty
Technical Specifications
ASUS Vivobook Flip 14 is back —  with a bold new look to get your pulse racing. This is a convertible laptop that's full of personality, sporting a sleek Indie Black or Transparent Silver finish and a color blocked Enter key with yellow edges and text. Ready for performance, Vivobook Flip 14 is powered by up to an Intel Core i7 processor with First Intel Discrete Graphics, 16GB memory and a 512GB PCIe SSD. A sturdy 360° hinge holds the display firmly at any angle, giving you the flexibility to use Vivobook Flip 14 as a traditional laptop, a tablet, or anything in between.
PERFORMANCE

Create, work, surf or watch
Unleash your creativity, knock out your next work project, or watch videos — everything's a breeze with VivoBook Flip 14. VivoBook Flip 14 is powered by up to an Intel Core i7 processor with Intel Iris Xe graphics and 1GB memory, and a large-capacity 512GB PCIe SSD gives you superfast data access.
ASUS INTELLIGENT PERFORMANCE TECHNOLOGY (AIPT)
The ultimate performance boost — up to 40%!
ASUS Intelligent Performance Technology (AIPT) is an ultra-efficient thermal design and power-saving solution. It uses ASUS exclusive algorithms combined with between five and nine smart sensors, an aerodynamic IceBlade fan design and a 65-watt power supply to intelligently increase CPU performance with improved stability, while allowing all-day battery life and a quieter and cooler laptop. With ASUS Intelligent Performance Technology, your laptop could run in high-performance status as long as you need.
Unleash the possibilities
Using ASUS Intelligent Performance Technology in Performance mode, an ASUS laptop with an 11th Gen Intel processor can enjoy a performance boost of up to 40% compared to an ordinary performance. Even in the default Balanced mode, performance can be up to 30% better.
See the amazing performance improvement!
Here's how much Performance Mode can boost the performance of some commonly used apps — so you can finish your work even quicker!
How to enable a 40% performance boost
ASUS Intelligent Performance Technology features Whisper, Balanced and Performance modes. You can easily switch between the modes by pressing the Fn + F hotkey combination. You can also switch via the MyASUS software by choosing Hardware Settings then ASUS Intelligent Performance Technology Modes.
ASUS INTELLIGENT PERFORMANCE TECHNOLOGY (AIPT)
Aerodynamic IceBlade for accelerated cooling
Each model in the new VivoBook series provides exceptional heat dissipation via an upgraded 8 mm heat pipe and a new IceBlade fan that efficiently accelerates heat transfer. The 87-blade IceBlade fan and impeller are made of a liquid-crystal polymer that allows them to be lighter and thinner than ordinary fans. Each IceBlade fan blade has a 3D-curved aerodynamic design, allowing the fan to achieve better flow rate and lower noise. In addition, the IceBlade fans also use a fluid-dynamics bearing, which can achieve better vibration reduction and lower noise when compared to ordinary fans.
DESIGN HIGHLIGHT
Stand-out looks
Being bold means putting yourself out there, and the sleek VivoBook Flip 14 helps you stand out — thanks to its textured Indie Black or Transparent Silver metal chassis with diamond-cut logo, and a color-blocked Enter key.
 Oh, it's yellow!
 Inside the lid is a color-blocked Enter key with yellow edges and text that grabs your attention. Get ready to strike that key and get your thoughts out there.
 It's about style
 VivoBook Flip 14 is designed to turn heads. Its precision-crafted all-metal chassis features diamond-cut logo that invite your touch. And thanks to an ultrathin chassis, it slips easily into your bag or backpack.
 360° HINGE
 Built to last
 To ensure ultimate durability, the precision-engineered stepless 360° metal hinge of VivoBook Flip 14 passed a 20,000-cycle open-and-close test. You can rest assured that your VivoBook Flip 14 will be ready for any mode, anytime — for years to come!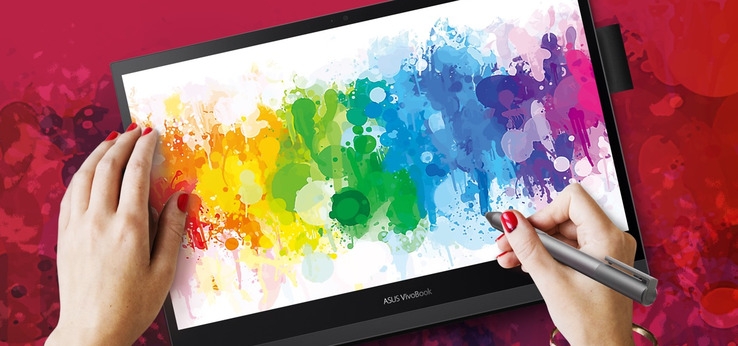 ASUS PEN
Creativity at your fingertips
VivoBook Flip 14 is designed for the ultimate touch experience, with a touch display that detects even the subtlest fingertip movements. ASUS Pen support allows you to let your creativity flow with a natural responsive feel. The bundled pen holder simply sticks onto the VivoBook Flip 14 lid so your ASUS Pen is always within reach.
* ASUS Pen is optional. The ASUS Pen SA200H is shown in the photo.
THIN & LIGHT
Be free from burden
VivoBook Flip 14 keeps you productive and entertained on the go. With an overall weight of just 1.5 kg and an ultrathin profile, VivoBook Flip 14 easily slips into a backpack — so it's always travel-ready.
NANOEDGE
Push the boundaries with NanoEdge
The thin-bezel NanoEdge display provides incredibly immersive viewing experiences, allowing a 14-inch panel to fit into a 13-inch-class chassis. As a result, VivoBook Flip 14 offers more compact dimensions with an impressive screen-to-body ratio. On top of that, a Full HD display offers wide viewing angles and exceptional color reproduction for truly vivid visuals.
WIFI 6
Stay connected
Set up your office wherever you want — at home, in a café, or at the airport. Integrated Intel WiFi 6 (802.11ax) delivers superfast networking speeds for faster large file transfers, responsive online gaming, and super-smooth video chats.
NUMBERPAD 2.0
The touchpad, reinvented
When itʹs time to crunch numbers, the new NumberPad 2.0 makes things easy. Simply tap the touchpad icon to turn the touchpad into an LED-illuminated numeric pad.
HARMAN KARDON
Rock your world
Music is the soundtrack of life, and VivoBook Flip 14 makes it better. A Harman Kardon-certified sound system delivers high-quality detailed audio that's second to none.
STICKERS
Stick it to 'em!
It's not just the color-blocking design that makes a fashion statement. VivoBook Flip 14 comes with a set of unique stickers to make your VivoBook uniquely yours. The time for personalization is now, what will yours look like?
UNCOMPROMISED PRODUCTIVITY
Maximize your day
VivoBook Flip 14 offers a range of features designed to keep you productive all day long, including fast-charge technology that lets you recharge a low battery to 60% in just 49 minutes.
Exactly your type
The full-size backlit keyboard on VivoBook Flip 14 is perfect for working in dim environments. Ergonomically designed, its sturdy, one-piece construction and 1.4 mm key travel provide a comfortable typing experience.
MYASUS
Get the very best from your PC with MyASUS
MyASUS is the easy way to access handy ASUS apps that help you get more out of your laptop or desktop PC. Multitask using your iOS or Android phone with your PC, optimize your PC's performance or contact after-sales service and support. There's also a huge range of popular app downloads and exclusive offers just for you!