Description
We have the largest variety of HP ELITEBOOK 8440p in Kenya. 
HP ELITEBOOK 8440P price in Kenya is ksh 25,000.00 at LaptopClinic.co.ke Get it in 2 hours/ Same Day for Nairobi, Next Day Countrywide
Key description:

HP
8440p MODEL
14 Inches
250 GB
Core i5
4 GB Ram      
Windows 7
Anti-glare Special Feature  
Integrated Graphics Card
Intel HD Graphics Graphics Coprocessor
Technical description
 From the outside, the HP EliteBook 8440p is practically identical to its workstation sibling, the EliteBook 8440w. Inside, however, are features more suited to on-the-go executives rather than graphic designers. Gone are the discrete graphics of the workstation, but in exchange, users get about 4.5 hours of battery life. (And you can always upgrade to an eight-cell battery for more juice.) A classy and durable metal case, Core i5 graphics, and an excellent keyboard for less than $1,000 make this one of the best business systems money can buy.
The 8440p continues in the same aesthetic tradition as other EliteBooks (such as last year's 6930p): the lid and palm rest are made of anodized aluminum, and the keyboard area is a matte black plastic. Unlike the Workstation line, which has a dark gunmetal gray finish, the metal on the 8440p is a brighter platinum. We actually prefer the 8440w; it looks a bit meaner. At 5.2 pounds with its six-cell battery, the 8440p is the same weight as the Lenovo ThinkPad T410, which has a plastic lid.
Above the keyboard are a select few touch-enabled controls. From the left: HP's QuickLook 3, web browser launch, wireless, touchpad, mute, and volume controls. At the bottom right of the keyboard deck is an optional fingerprint reader.
Keyboard and Touchpad
Since its previous EliteBooks, HP changed the key design slightly; no longer are the keys the traditional chamfered style, nor are they chiclet-shaped. Rather, they're a combination of the two: while abutting one another at their base, the keys tier up in a terraced fashion. We found the layout to be comfortable and fairly quiet. The keyboard boasts HP's DuraKey finish, which help prevent wear over the long term.
The keyboard isn't backlit, but a small light to the right of the webcam provides more than enough light when working in a darkened area, such as on a plane during an overnight flight; however, it's slightly more intrusive to a seatmate who's trying to sleep.
Like Lenovo, HP offers both a pointing stick and touchpad. However, HP's is concave rather than convex. The slight depression is intended to help secure your finger, but we found ours slipping a little more than those on Lenovo systems.
The 2.8 x 1.4-inch touchpad is a little squashed--we had to backtrack a bit while scrolling down pages. On the plus side, it offered very little resistance, unlike the glossy touchpads found on the Mini 5102 and the Pavilion lines.
Heat
Despite its powerful Core i5 CPU, the EliteBook 8440p didn't get very hot. After playing a Hulu video at full screen for 15 minutes, the touchpad registered 86 degrees Fahrenheit, the space between the G and H keys measured 91 degrees, and the middle of the underside reached 94 degrees. While we consider anything over 100 degrees unpleasant, the 8440p was not nearly as bad as the HP Envy 15, whose underside heated our workspace to 110 degrees.
Display and Audio
Our 8440p's matte display came in the 1366 x 768-pixel configuration; this resolution was more than sufficient, and colors were bright and sharp, but those who desire more pixels can opt for a 1600 x 900-resolution display. The lid of the 14-inch screen can dip back 180 degrees from the closed position; at 40 degrees from the vertical, images started to reverse. However, side-to-side viewing angles were excellent.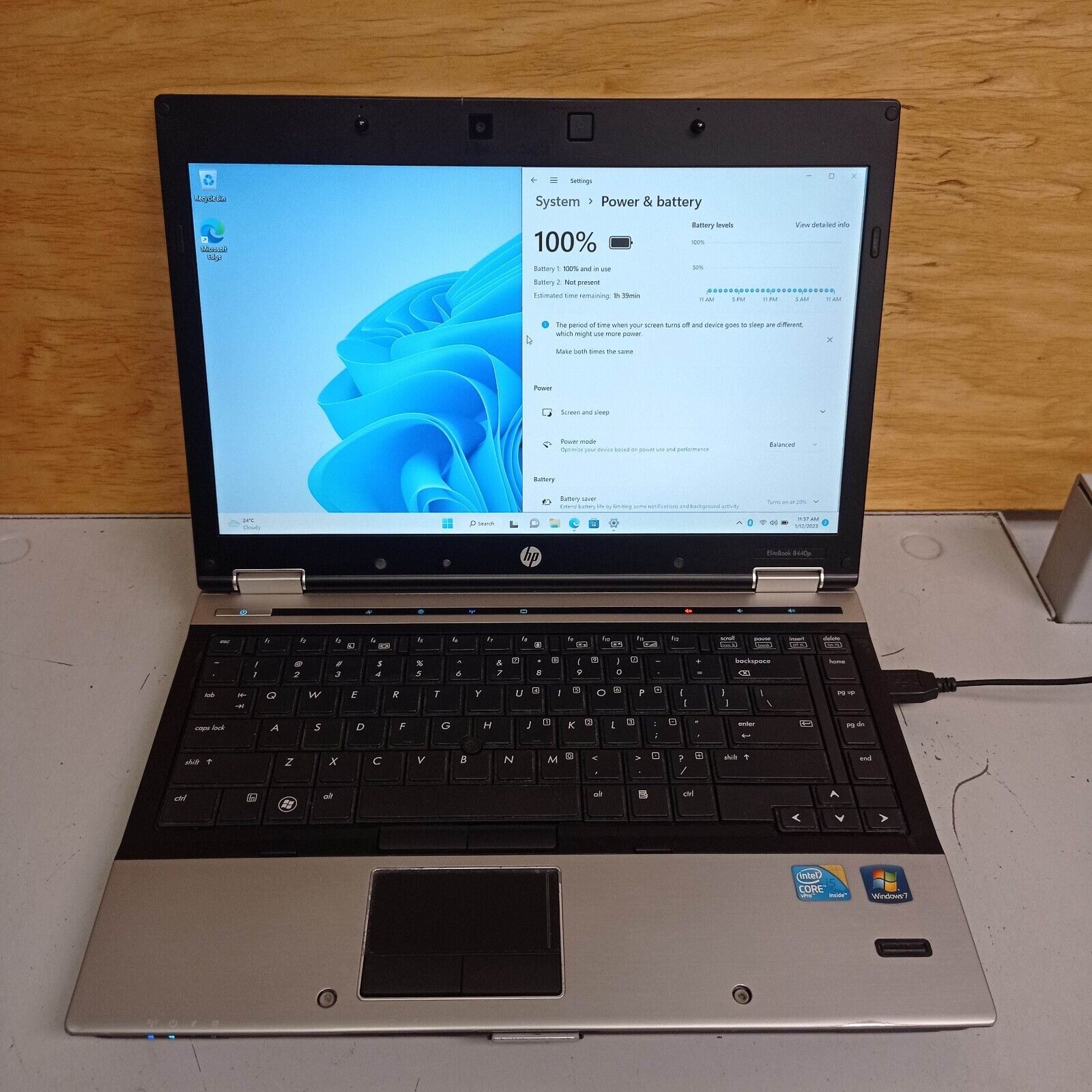 For a system geared toward working professionals, the audio on the 8440p was superb. Alicia Keys' vocals came though clearly in "If I Ain't Got You," as did midrange piano notes. Even cymbal crashes were free of any distortion. And this laptop was more than loud enough to fill a large office.
Performance
Outfitted with a 2.4-GHz Intel Core i5-520M processor, 2GB of RAM, and a 7,200-rpm, 250GB hard drive, the 8440p fared well on our tests. Its score of 5,552 on PCMark Vantage was about 1,500 points above the category average, but 1,400 points below the Lenovo ThinkPad T410.
While it's no SSD, the 7,200-rpm hard drive booted into Windows 7 Professional (32-bit) in a speedy 44 seconds. That's about 15 seconds below average, and 1 second better than the T410. Its file transfer speed of 29.6 MBps was also comfortably above average (23.5 MBps).
With Oxelon Media Converter, a multithreaded app that takes advantage of the 8440p's several cores, transcoding a 114MB MPEG-4 to AVI took 53 seconds, a few seconds faster than the thin-and-light average.
This being a corporate system and not a workstation, the 8440p eschews discrete Nvidia graphics for an integrated Intel GMA HD GPU. Needless to say, its 3DMark06 score of 1,766 is a little lower than average (2,127), but above such systems as the ThinkPad T410 with integrated graphics (1,374).
These performance figures were justified in our gaming tests. In World of Warcraft, the 8440p delivered 50 frames per second with the resolution at 1024 x 768, and graphics at their optimal settings. However, with the screen set to its native resolution of 1366 x 768 and effects maxed, the notebook managed just 10 fps.