Description
We have the largest variety of laptop batteries in Kenya. 
price in Kenya is ksh2,500.00 at LaptopClinic.co.ke Get it in 2 hours/ Same Day for Nairobi, Next Day Countrywide
Key Specifications
10.8 Volts - also compatible with 11.1 Volt systems
5200 mAh or 58 Whr; runs longer than 4400 mAh batteries
6 Cell Li-ion
Black
300-500 recharge cycles
Replaces these many Toshiba laptop battery part numbers:
PA3479U
PA3479U-1BAS
PA3479U-1BRS
PA3479U1BAS
PA3479U1BRS
PABAS078
Technical Specifications
The Toshiba 3479 battery, a loyal companion that has been through it all with me. It holds a special place in my heart, as it has powered my beloved Toshiba laptops, the P100 and P105 models.
This battery has been there for me during the ups and downs of life, always providing the energy I need to keep going. It has witnessed my late-night writing sessions, helping me bring my thoughts to life on the screen. It has powered my adventures, allowing me to explore new places and capture precious memories along the way.
When I think about this battery, I can't help but feel a deep sense of gratitude. It has been a steadfast source of power, supporting me through countless hours of work and play. It has never let me down, always delivering the energy I need to stay connected, productive, and inspired.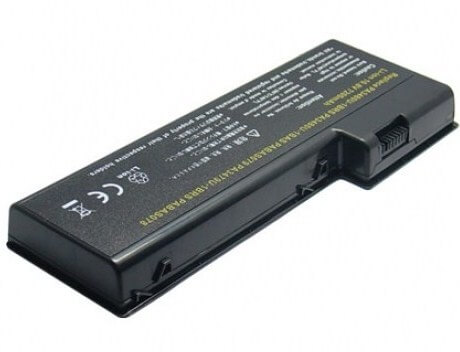 But this battery is more than just a technical component; it embodies the essence of resilience. It symbolizes the strength and endurance that have carried me through challenges and obstacles. It reminds me that even in moments of uncertainty, I have the power within me to overcome and thrive.
The Toshiba 3479 battery has become a part of my story, a symbol of the journeys we have embarked upon together. It has witnessed my triumphs and my failures, my laughter and my tears. It has been a silent companion, always ready to support me whenever I need it.
So, here's to the Toshiba 3479 battery, a true unsung hero in my life. Thank you for being there for me, for empowering me to pursue my passions and dreams. You are more than just a battery – you are a reminder that power, both literal and metaphorical, resides within me. Together, we will continue to face the challenges and embrace the joys that lie ahead.